Volunteer ecologic camp
Opening of summer volunteer ecologic camp in Sukhaya village (Buryatia).
Event details
When
Jul 18, 2012
from
10:55 AM
to
10:55 AM
Where
Kabansky district, Buryatia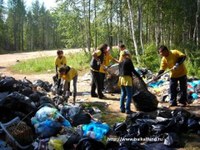 On 18th July a summer volunteer ecologic camp was opened in Sukhaya village (Buryatia) at participation of Sergey Kudelya, Project Manager of "Integrated Natural Resource Management in the Baikal Basin Transboundary Ecosystem"; Boris Danilov, Director of the Fund for Protection of Lake Baikal and representatives of mass media. Construction and improvement of ecologic camp started on 13 July. During the first 4 days a temporary storage for garbage was organized. Daily ecological raids were conducted.
http://www.baikalfund.ru/news/fund/article.wbp?article_id=e9c3e70d-37ec-45ff-ac40-d2173b17c5dd