The first International Baikal Ecological Forum "Clean Planet"
Event details
When
Oct 03, 2015 04:55 AM
to
Oct 04, 2015 04:55 AM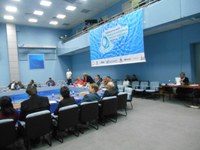 The venue chosen for the Forum is Irkutsk. Irkutsk is located next to the unique Lake Baikal, which is UNESCO World heritage site. Lake Baikal is a part of the Baikal natural territory, which is located on the territory of the Republic of Buryatia, the Irkutsk region, the Zabaikalsky krai.
12 protected areas, including 3 nature reserves, 2 national parks, 6 nature sanctuaries directly adjoin to the coast of Lake Baikal. In addition to them, another 23 protected areas there and more than 400 monuments of nature located on the Baikal natural territory. The area of ​​the Baikal natural territory is of 386 000 square kilometer.
As many global environmental problems are transboundary, the chain of issues will be discussed in the framework of the I Baikal International Environmental Forum: the pressing problems of the region associated with the implementation of the activities of the Baikal nature territory, exchange of experience, best practices in environmental preservation and management.
http://snews.ru/index.php?id=63499&sm=4
http://www.vkrugu7i.ru/novosti/611-podgotovke-k-bajkalskomu-mezhdunarodnomu-ekologicheskomu-forumu-idet
http://ekogradmoscow.ru/novosti/v-irkutske-nachal-svoyu-rabotu-pervyj-bajkalskij-mezhdunarodnyj-ekologicheskij-forum-chistaya-planeta
Photo: http://ekogradmoscow.ru/