The photo show "Precious necklace of Baikal" was presented during the VI session of the Security Council of Russia.
Event details
When
Jun 25, 2015
from
07:45 AM
to
07:45 AM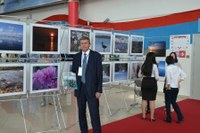 The VI international meeting of the Security Council was held in Ulan-Ude. A meeting of the representatives in charge of security, is held annually on the initiative of the Russian side.
It is attended by secretaries of security councils, ministers, assistant to the president and prime minister for national security, security chiefs and other responsible leaders of over 70 countries, and the UN delegation.
Russian delegation head is Nikolai Patrushev, Russian Security Council Secretary.
The issues related to international cooperation to combat the growing threat of global extremism and its new manifestations. In addition, participants discussed the theme: "Fresh water as a strategic resource for sustainable development of international security", "The role of Russia in ensuring biological safety at the international level", "Formation of the system of international information security."
Within a framework of the session, the photo show "Precious necklace of Baikal" was organized.
Text:
http://baikalfund.ru/news/fund/article.wbp?article_id=e66c527b-13cd-48d2-aced-ec4fb0e86c5b