Presentation of film "Baikal without boundaries" in the exhibition hall "Nagornaya"
Event details
When
Jan 25, 2015 08:45 AM
to
Mar 24, 2015 08:45 AM
On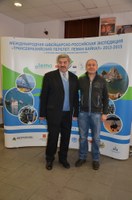 25th of January 2015 in the state exhibition hall "Nagornaya" the number of ecological events under the common name "Baikal days" were organized by Lake Baikal Protection Fund.
A head of the project of popular scientific movies, film-maker Mikhail Chumak and national project technical director of the Lake Baikal Project Alexander Shekhovtsov told about the most important problems of Lake Baikal;
The documentary "Baikal without boundaries" was presented to the audience. After the presentation the discussion of the film has started.
Source: http://baikalfund.ru/news/fund/article.wbp?article_id=7093ad57-f77e-4510-971d-ecf13c2d4cd1