The 4th Regional Steering committee meeting of the Lake Baikal Project in Tankhoi (Buryatia, Russia)
Event details
When
Jul 28, 2015 05:35 AM
to
Jul 30, 2015 05:35 AM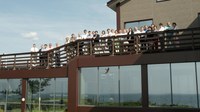 The new visit-center of Baikal biosphere nature reserve hosted the 4th Regional Steering committee meeting of the Lake Baikal Project.
The final Steering committee meeting was dedicated to presentation of the results, achieved by the project during the whole period of implementation.
UNDP Regional technical advisor, Vladimir Mamaev and Project Manager of the Lake Baikal project noted in their speeches, that Baikal Informational Center (BIC) was created with support of the
project. BIC disseminates the electronic results of scientific and nature conservation organizations. The results are also covered in the magazine "World of Baikal", in the series of films.
Due to the support of the project, in the national parks and reserves the eco-campings, pilot treatment facilities, eco-trails were constructed; learning courses were organized for the heads of the nature conservation organizations; the "White book of the Baikal basin" with the list and description of ecological NGOs was published.