Round table in Russian State Library: "World Water Day 2014: Water and energetics"
Event details
When
Mar 20, 2014 06:25 AM
to
Jan 09, 2015 06:25 AM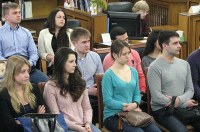 On 20th of March, a meeting with students and readers of Russian State Library was held with support of Informational UN Centre. The meeting was devoted to International Water Day.
Alexander Shekhovtsov, National Technical Director of UNDP/GEF Project, opened a discussion of experts. He told, that, UNDP/GEF project started in 2011 to study these areas. Rivers and streams that flow into lake Baikal, located in Irkutsk region, Buryatia, and they are quite dirty. Another problem - the Selenga River, the largest tributary of Lake Baikal, which originates in Mongolia. It is planned to build several power plants that may affect the lake. Currently The Project is working together with scientists from Russia, Mongolia and UN staff to monitor the status of Lake Baikal.
The film "Baikal without boundaries" was demonstrated to the readers and guests.
Source (text and photo):  http://www.rsl.ru/ru/s7/s409/2014/voda