GEF IW:LEARN Information and Communications Technology Workshop 17-20 Mar 2014
Event details
When
Mar 17, 2014 06:35 AM
to
Jan 09, 2015 06:35 AM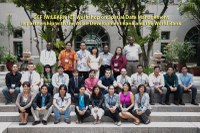 GEF IW:LEARN Information and Communications Technology Workshop in Spatial Data Management for Asia and the Pacific was held on 17-20 March 2014 (Manila, Philippines).
Participants were given an in-depth understanding on the role of spatial data management in water ecosystem management and disaster risk mitigation and management using the success stories from World Bank's Geonode implementation in the Latin America and Caribbean region and experiences of projects from other regions.
The workshop transferred skills on the use of GeoNode and related open source platform to the participants to enable their respective project.