The 4th International forum "Baikal dialogue" in Chita.
Event details
When
Aug 23, 2015 08:25 AM
to
Aug 24, 2015 08:25 AM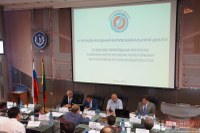 The purpose of the forum – is creation of a discussion platform for government agencies, NGOs, commercial and non-commercial sector, scientific organizations of Irkutsk region, Zabaikalsky krai and Buryatia. It is expected, that forum provides the basis for sustainable development and preservation of lake Baikal.
Photo: http://zabinfo.ru/f17541

http://www.chita.kp.ru/online/news/2143429