The second ecological movie festival H2O
Event details
When
Sep 14, 2012 06:40 AM
to
Sep 18, 2012 06:40 AM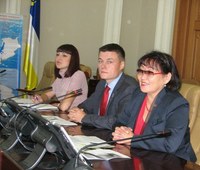 The second environmental movie festival H2O took place in Ulan-Ude оn September 14-18, 2012. The entrance was free. During five days people had a chance to watch four full-length and two short films in the movie theater "Progress."
Mr. Sergey Kudelya, chief manager of the UNDP/GEF project "Integrated Natural Resource Management in the Baikal Basin Transboundary Ecosystem," stressed the importance of preserving energy resources.
Ms. Nina Dagbaeva, director of the Baikal Information Center "GRAN" opened the festival with an appeal for thoughtful viewing.
Ms. Seseg Sanzhieva, a representative of the Administration of Ulan-Ude, made an appeal for environmental responsibility of the audience. The youth environmental unit "Tornado" of the Timber and Forestry Training College and volunteers from the Teacher Training Institute of Buryat State University were among the guests of the festival.
The festival concluded with an award ceremony for the winners of the internet quiz "Wildlife of Lake Baikal" organized in the framework of the project "Every Drop Matters – Lake Baikal." More than 200 students from 15 republican schools participated in the quiz; 29 of them were chosen winners in three different age groups. Six schools that took a very active part in the quiz were also awarded.
Source: http://everydropmatters.ru/eng/index.php?mod=news&act=show&id=34