Second Regional Steering Committee Meeting
Event details
When
Apr 26, 2013 12:00 AM
to
Apr 27, 2013 11:35 PM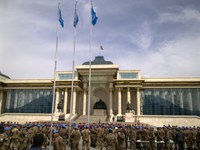 The Second Regional Steering Committee Meeting of the UNDP-GEF regional project "Integrated Natural Resource Management in the Baikal Basin Transboundary Ecosystem" (the Baikal Project) will be held on 26-27 April 2013 in Ulaanbaatar (Mongolia).
The purpose of the second Steering Committee meeting is presentation of the Baikal Project 2012 results and 2013 work plan and budget to the Steering Committee members and observers including overview of the revised Transboundary Diagnostic Analysis and the road map for the process of developing and enhancing the legal and institutional framework of bilateral transboundary water cooperation.
Download the draft agenda and the preliminary participants list.