Official visit of the delegation of the Republic of Buryatia in Ust'-Ordynski national district and Olkhonsky district of the Irkutsk Region.
Event details
When
Apr 23, 2015 10:50 AM
to
Apr 24, 2015 10:50 AM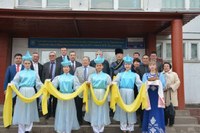 During the official visit the information about the implementation of the Federal special purpose programme "The preservation of Lake Baikal and social and economic development of the Baikal natural area for 2012-2020" was presented by Ministers of natural resources of Buryatia and the Irkutsk Region.
The progress of the Lake Baikal Project implementation was presented by the project Manager Sergey Kudelya. Director of Institute of Geography SB RAS told about the Baikal basin Atlas.
http://www.binm.ru/ru/news/novosti-bip-so-ran/vizit_delegatsii_rb_v_ust_ordynskiy_buryatskiy_okrug/