Eg sub-basin watershed management plan (Mongolia)
Mongolia Water Forum-ushelts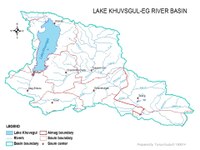 · Baselines on socio-economic and ecological condition of  Eg sub-basin were established. Baseline data on economic activities and their impacts on the environment: (e.g. water quality, aquatic biodiversity) were collected.
· The initial draft of Eg sub-basin watershed management plan was prepared.
· In 2014 endorsement letters from MNET and relevant authorities of those draft plans will be received.