2012-2015 Summary
Report on the implementation of UNDP-GEF Project "Integrated Natural Resource Management in the Baikal Basin Transboundary Ecosystem" in 2012-2015.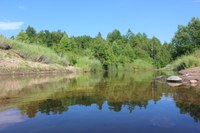 In accordance with the working plan approved by Steering Committee and within the scope of the Lake Baikal Project it was implemented 96 works. These works were performed by different organizations.
The project participated and assisted in organization of various activities that meet project goals and objectives.
In total, during 2012-2015 period, the staff of the PMU took part in 124 such events and meetings. Information about the project has been published in more than 240 different sources.
Approved budget for 2012 year was realized by 95%
Approved budget for 2013 year was realized by 99%
Approved budget for 2014 year was realized by 96%
Approved budget for 2015 year was realized by 95%
Download the Q1 2015 Report (Rus)
Download the Q2 2015 Report (Rus)