Tugnuy-Sukhara sub-basin watershed management plan (Buryatia, Russia)
Taisiya Bardakhanova, Russia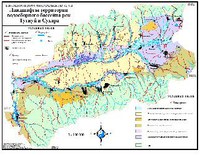 · Current basin management strengths and weaknesses were studied.
· Baselines on socio-economic and ecological condition of target sub-basin Tugnuy-Sukhara/Buryatia, The Russian Federation for further development of river basin management plans for those watersheds of Selenga basin were established.
· Sub-basin management plan in cooperation with respective authorities was prepared.
· Endorsement letter from Minister of Natural Resources and relevant authorities of that plan was received.

Tugnui-Sukhara sub-basin plan

Tugnui-Sukhara sub-basin plan - Endorsement letter 1