Preparation and approval of the Strategic Action Programme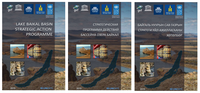 In 2015 the Russian and Mongolian experts completed two-year work on the Strategic Action Programme (SAP) under the direction of environmental ministries of the Russian Federation and Mongolia.
The Strategic Action Programme was endorsed by the governments of Russia and Mongolia in October 2015.
SAP aims to mitigate threats to the ecosystem of Lake Baikal basin. This program includes the Russian-Mongolian joint actions to strengthen the protection of the ecosystem of Lake Baikal Basin.
The program is also an important final stage of the Baikal Project.
SAP provides a framework for coordinated policy actions to protect biodiversity and natural resources of the Lake Baikal transboundary basin. Threats to terrestrial and aquatic ecosystems of the Baikal Basin have been identified and ranked by Russia and Mongolia in the development process of the Transboundary Diagnostic Analysis. This SAP provides a systematic approach to the control and prevention of such threats through a process of technical and strategic actions taken by the Governments of Mongolia and Russia.