Model of pollutants transport and water balance in the Baikal Basin
Geographical faculty of Moscow State University (Russia)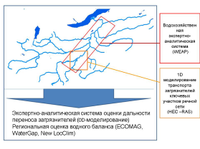 Data base for modeling of pollutants transport in the Selenga river basin has been created, as well as setting of the model of pollutants transport and water balance in the Lake Baikal basin, basing on the data base, has been developed. For pollutants transport modeling along the length of water systems, programs and methods necessary for task solution have been chosen and specialized program module has been elaborated. Solution of this task enables to conduct early and timely warning of users, who are downstream, about strong threats of transportable pollutants for purposes of prevention and necessary protection measures.
Within the scope of work the following objectives have been achieved:
Conduction of trainings using the premises of Baikal Institute of nature management (Russia) and Institute of hydrology and meteorology (Mongolia) for acquaintance with principles of HEC-RAS, WEAP model work and necessary skills of ArcGIS.
Calibration and verification of one-dimensional hydrodynamic model (HEC-RAS) for chosen key parts of river net.
Calibration and verification of WEAP for the Lake Baikal basin.
Development of expert-analytical system of chemical element transfer down the Selenga River.
Installation of program complex HEC-RAS, WEAP and developed models on computers of Baikal Information Centre in Mongolia and Russia.
Visualization of scenario results of river net reaction forecast and water balance calculation published on Baikal Information Centre web-site.