Development of eco-tourism in Pribaikalsky National Park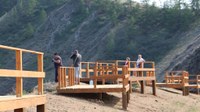 This work was performed as part of the Lake Baikal project component 3.3, for protected area "Zapovednoe Pribaikal'e", which consists of the Baikal-Lena protected area and national park. The purpose of this study was the inclusion of controls ecosystem health and biodiversity in the planning organization of tourism, creation of conditions for the development of ecotourism in the reserve that is compatible with biodiversity.
It has produced compatible with biodiversity ecotourism plan for cape Khoboy (unique tourist site on Olkhon island, Lake Baikal, within the territory of Pribaikalsky National Park), set viewing platform developed information signs.
As part of the work, on the sand-bank "Khanhoyskaya" small reservation was created to preserve populations of rare plants included in the Red List of Irkutsk Oblast (2010).