A training for raising awareness and improvement in management of stakeholders in Persistent Toxic Substances (PTS) and Persistent Organic Pollutants (POPs) in Mongolia
Bayarjargal Munkhuu,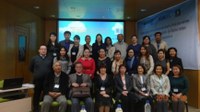 On 04.10.2013 the training workshop was organized at the Fresh Water Resource and Nature Conservation Center in Ulaanbaatar, Mongolia and was headed by Dr.L.Jargalsaikhan, the chair of the National Chemicals Management Council in Mongolia. Totally 36 participants took part in workshop including 6 persons from 4 provinces which belong to the Baikal Basin. A POPs/PTS training brochure for the purpose to increase public awareness was prepared. It contains 54 pages and was published in 100 copies in Mongolian for participants of training workshop and other interested persons.