2013 Shoreline clean-up campaigns in Russia
The project "Save Baikal"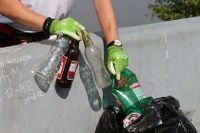 The following Baikal shoreline clean-up campaigns were suported by the Project:
-          "Pure Ice Lake Baikal in 2013" on 6 April 2013 in the Holodnyanka;
-          Baikal shoreline volunteer group camp from 15 July 2013 to 5 August 2013 in the Cape Nameless, Baikal regions, the Republic of Buryatia;
-          "Clean river Selenga" in Ulan-Ude On 5 August 2013;
-          "Clean Olkhon Island" on 14-15 September 2013.
In total, 30 kilometers of shoreline were maintained by volunteers on a daily basis. More than 2000 bags of 120 liters of sorted waste were collected and removed.