The film about Baikal biosphere Reserve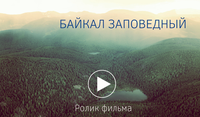 A state environmental service was established on Lake Baikal in 1917. In modern time, there are the largest reserves and national parks of the country. The documentary "Baikal reserve" represents the history and modern achievements of the Baikal biosphere reserve, which became a pioneer in the development of ecological tourism in Russia.
The film was made for demonstration to the guests of the Baikal nature reserve, showing at national and international events and meetings. It presents the history and the present of the country's largest nature reserve. The film was made in the short and full versions in English and Russian.
View (Russian):   https://youtu.be/dKMnkx0_18c
View (English):    https://youtu.be/SpSA_MR6G54