Shoreline cleanup campaigns on Baikal and Selenga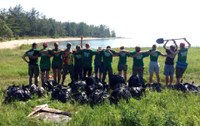 The project "Save Baikal" has been supported by the Lake Baikal project. From June to September 2015 it included a wide range of educational and practical activities, such as work on cleaning, monitoring of areas, educational events among the local population and visitors.
As part of 2015 season of "Save Baikal" the works included cleaning up the shores of Lake Baikal and Selenga, including 4 areas, covering a total of 140 km of coastline and the forest zone (Irkutsk region, Buryatia, Mongolia), as well as a number of related activities.
During the season 2015 the area of ​​about 5 square kilometers has been cleaned.
The length of shoreline cleaned: Irkutsk region: 40km, Republic of Buryatia: 80 km, Selenga: 2 km, Mongolia: 4 km. It was collected more than 1,000 cubic meters of garbage (1300 bags of 200 liters each + other garbage).