Setting up the model of pollutants transport and water balance in the Baikal Basin
Faculty of Geography of Moscow State University, Russia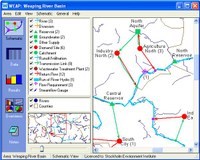 Using developed in 2012 database for modeling and simulation of pollutants transport in the Selenga Basin this activity service is expected to deliver the following results during 2013 and 2014:
Description and working complex of modeling system, including mathematical model based on packet HEC-RAS of the Tuul river's and the Orkhon river's channels (lower than junction with Tuul river) till junction with Selenga, the Dzhida river till junction with Selenga, and expert-analytical system of Selenga (basing on delution equation).
WEAP-based model of water balance of the Lake Baikal basin.
Results of space spreading of pollutants' characteristics in weighted and dissolved form of burden of river drift (turbidity, heavy metals, tracers) under different nature-anthropogenic conditions (maps, graphics, tables).
Estimation of characteristics of water drift stocks and dissolved substances for different hydrological conditions.
Forecast modeling of volume of accumulated material in river channel and in floodplain along the length of river systems; estimation of geochemical barriers.
In 2013 a description of expert-analytical system of chemical element transfer down the Selenga River (based on WEAP and HEC-RAS) and a report on water balance of the Selenga River Basin were developed.