Lake Baikal and Lake Khuvsgul shoreline cleanup campaigns.
Center of ecological and social project development (Russia), Agriculture and Cooperatives Association in Khuvsgul (Mongolia)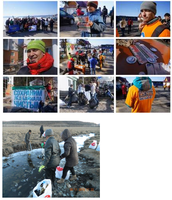 Work of public organization "Center of ecological and social project development" on Lake Baikal and Selenga shoreline cleanup was supported. There were the following activities: 5–6 April 2014 – Pure Ice (Irkutskaya oblastj, Listvyanka and territory of ferry crossing to the Olkhon island); 12 April 2014 – Pure Ice (the Republic of Buryatia within the scope of "Baikal fishing" activity); 15 July – 15 August 2014 – Patrol and nature protection camp "Baikal Shoreline Patrol"; 7 August 2014 – All-Russian cleaning on the Selenga River «Clean shore of Selenga» (Ulan-Ude); 25 August – 6 September 2014 – "Source of Baikal" – expedition to Mongolia to Khuvsgul lake.
Totally within the 2014 season the organizers of the "Save Baikal" Project held 11 activities, moved across 17000 km. About 500 volunteers took part in the activities, the working territory made up 100 square km. More than 2000 packs of waste (as well as oversized garbage) were gathered, a base for the Baikal Shoreline Patrol work enhancement was prepared and a 2015-2017 nature protection work plan was compiled.
Cleanup campaign of Eg riverside territory on Khuvsgul lake, with attraction of local population, was organized in Mongolia on 8-14 November 2014. The campaign took place near Alag-Erden and Khatgal sums with participation of 50 volunteers including teachers and students o ecological clubs.
10 units of transport (6 trucks, 1 big tractor, a small tractor and 2 automobiles) were involved. As a result, 11 hectares of riverside territory was cleaned and closed containers for garbage were set.
Besides, different trainings and seminars for local inhabitants were held.
Download report (Baikal, Selenga)