Groundwater resource assessment as a contribution to the TDA, including surface water - groundwater interactions and groundwater dependent ecosystem in the Baikal Basin
UNESCO Division of Water Sciences - International Hydrological Programme (IHP)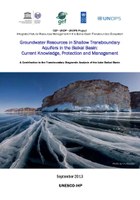 · Proposal of policy recommendations for sustainable integrated management of transboundary groundwater and surface water resources based on holistic, multidisciplinary, trans-sectoral and environmentally sound approaches with the scope to incorporate them into country National Water Master Plan.
· Enhancement of role of Russian – Mongolian transboundary water commission unit and address proposals for sound development, exploitation and protection of transboundary groundwater resources in shallow aquifers to minimize potential international conflicts and competing demands for groundwater resources and social and ecological side-effects on populations.
· Proposal of design of transboundary groundwater monitoring networks and standardized methodology for observation groundwater quantitative and qualitative parameters and transboundary pollution transport.
· Proposal of establishment of Russian – Mongolian GIS databases to facilitate the storage and retrieval of groundwater data from transboundary aquifers for different uses and enhance institutional and legal frameworks to manage, share and use data on international level.
· Increase of public awareness about importance and vulnerability of transboundary groundwater resources and propose adaptation measures in the context of climate change influence on different types of aquifers (shallow, karstic, deep).
· Enhancement of governance capacities and institutional and legal frameworks in support of effective and sustainable groundwater protection policy based on participatory approach involving policy makers, water scientists and managers, water stakeholders and general public.
· Strengthen capacities for the sustainable management and well head protection policy of transboundary aquifers through capacity building and training at all levels to improve transboundary water cooperation, planning and management.
Download Report Lake Baikal - ENG
Download Report Lake Baikal - RUS
Download Report Lake Baikal - MON