Baikal Information Center (BIC). Biennial report on the Baikal basin condition.
Baikal Institute of nature management (Russia), Basin management of the Orkhon River (Mongolia), National water committee (Mongolia)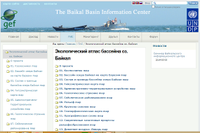 Within the scope of developed BIC data and information exchange protocol for Russia and Mongolia, based on conception and informational structure of BIC, the Baikal basin data have been collected and uploaded to BIC portal (section – Documents).
"Report on environment condition in the Lake Baikal basin 2012-2013" has been prepared. All sections of the portal have been updated: Documents, News, Atlas, Monitoring, Modeling and Friends. The Atlas section has maps, which were created within the scope of the Baikal Project activity – "Ecological atlas of the Lake Baikal basin". Besides, all maps have been posted on the BIC website using IW: LEARN GeoNote Map Server: http://geonode.iwlearn.org/. All information has been published in English, Mongolian and Russian. In January 2015 the report 2012-2013 will be published in English, Mongolian and Russian.