Magazin "World of Baikal" - special edition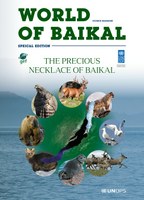 The special edition of the World of Baikal Magazine describes all the SPNAs in and around.
The very fact that the World of Baikal Magazine came into existence in 2004 was a confirmation of the fact that the government and scientists realized the importance of preserving Lake Baikal. Initially, our purpose was to inform and educate. But in our age the authorities cannot solve environmental problems unless the public is made aware of the issues at stake, understands its responsibility, and personally takes the initiative to change the situation for the better. This is a world for us and our descendants to live in.
In our modern world there are protected areas of land, the specially protected nature areas that have a special nature conservation, scientific, aesthetic, recreational, and therapeutic effect on our life. Such areas include nature reserves, national parks, and nature sanctuaries with federal status which are covered in more detail in the special edition of the World of Baikal Magazine. We aimed to present each of these areas in a way to make even the most seasoned tourists want to come to Buryatia and the shores of Lake Baikal.